The LANAP® Procedure in Wooster and Medina OH
Watch the LANAP Laser Procedure
Basic Steps of the LANAP® Protocol
More patients are choosing the Laser Assisted New Attachment Procedure (LANAP®) with Dr. Lemke to address bleeding gums and other problems related to gum disease. Laser gum disease treatment in the Medina, OH region is a well-tolerated, minimally invasive experience that removes bacteria and treats bleeding gums with minimal discomfort. LANAP® can even help to protect teeth from falling out.
The LANAP® Procedure
Our doctor will numb your teeth and gums and examine the gum pockets with a special instrument to determine how deep they are and how much tissue loss there is near the tooth roots.
Using the PerioLase® MVP-7™ laser, our doctor will begin to eradicate the bacteria between your teeth and gums. Gentle pulses of light will contact and destroy the bacteria and diseased tissue without disturbing any nearby healthy gum tissue. This is a minimally invasive procedure with little bleeding and post-operative inflammation.
The laser may also be used to break up the tartar (calculus) under the gum line. Our doctor then uses ultrasonic scalers to remove the debris.
Making tiny, protective blood clots around your teeth is the next step. Our doctor uses the laser to stir a little tissue and bone until small clots form. These clots will create a natural barrier around your teeth to keep out bacteria and protect your gums as they heal.
Our doctor will then compress the remaining gum tissue around the roots of your teeth so it can reattach naturally. No stitches are required.
Readjusting the bite is next. This is a very important step for patients with bone loss and is done so that the teeth are well positioned and able to function normally.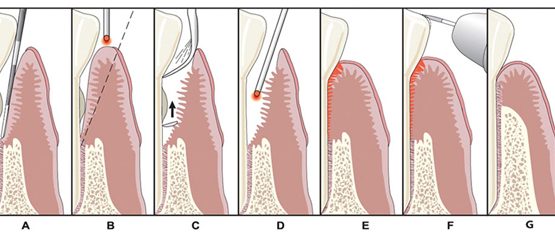 If you have bleeding gums or other problems related to gum disease, consider LANAP® with Dr. Lemke. Laser gum disease treatment in the Medina, OH region is safe, gentle, and effective. Call us today for your consultation.